Career Conversations
A workbook to help parents help their children to grow their dreams and aspirations, and build confidence for future careers
PDF eBook: $12
Use in conjunction with:
"The Career Maze – guiding your children towards a successful future": Paperback: $30 + shipping (calculated at checkout)
Good Career Conversations – a guide for parents: free
Description
This workbook is supplied as a PDF Download
You may also like…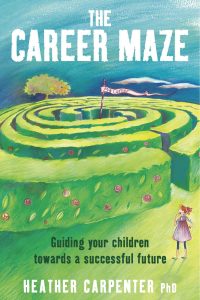 The Career Maze – Guiding Your Children Towards a Successful Future
"Our job as parents and career practitioners is to help young people come to know their unique and individual selves well enough to choose the right paths to move forward into becoming competent adults they desire to be" (p13, The Career Maze.).
This book is a guide for parents to help their children build the foundations for early career choices, and lifelong career progress, giving practical ways to
grow aspirations, and self-belief - essential pre requisites for career confidence
help your child grow in self-knowledge- the key to choosing the career paths that create motivation, achievement and satisfaction
use simple exercises and strategies with your children to create real and helpful career conversations
learn how to lay the groundwork for future employability and resilience....
A  great book for influencing all 'us' parents .........a fabulous and well needed focus. Sharee, Parent, Dunedin
It was great to have your book to recommend to parents. It is so easy to read with good practical advice. Denise, Careers Consultant, Otago.
You have brought together a wealth of sensible advice, supported by robust research, which will be really useful for parents and anyone working with young people thinking about career options. David, Vocational Consultant.
Paperback: $30 + shipping (calculated at checkout)
PDF eBook: $12
Read Extract
Click here to read chapter one extract
(pdf opens in new tab)
$

12.00 –

$

30.00
Select options